More Fluff
More Fluff - does what it says on the tin.
This is a mod for Dicey Dungeons, which adds ~400 new and "exciting" items. It injects these into the default episodes, so all you need to do is install the mod and play the game normally!
From the unassuming Paintbrush, to the mathematical Primal Punch; survival-heavy Regen or hyper-risky Blood Regen; the pun-worthy Pee Shooter or Gooplicate... there'll be an item for you!
Install instructions
Unzip the archive and place the morefluff folder in your mods folder - Dicey Dungeons/mods. Open the game, go to the Editor, and enable the mod.
To make a shortcut for this mod, create a batch file which runs diceydungeons.exe with the parameter mod=morefluff.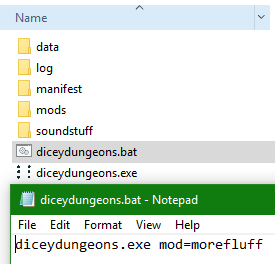 Comments
Log in with itch.io to leave a comment.
how do i update the mod api? mine is 0.11.0, but your mod is at 0.13.0
it fixed, but i am trying to run your mod with megaquest mod (wich is said to have compatibility with yours) and it says both of the mods are duplicated
Zweihander unupgraded doesn't do double damage. Expose weakness doesn't increase the damage numbers when you hit an enemy, but still boosts the damage. And also, Zweihander plus midnight charm, especially if it's upgraded, is op.
Zweihander does do "double" damage - if you put two 6s into it, it deals 2x (6) damage. This is consistent with other doubles items - Sneeze, Lunasa, Skeleton Key, Memorise - they all take doubles but only refer to a single dice.
Well, it's confusing then, because the number on the card that says how much damage it's going to do counts up to twice the total of the dice you put in, so it makes you think if you put in 2 6s, you would deal 24 damage.
Great mod! just a bug i found, Origami+ only returns one dice, even when using it correctly.
Oh, good catch, thanks! Quick enough fix though - I'll add that to the list for a future patch (probably next week)
This is awesome! I can't wait for the Dicey dungeons modding community to ignite, and this'll keep me interested for a long time. As far as i played it i've enjoyed all the new items! Due to the amount it makes synergies a lot easier to get, while all of them feel unique! this has inspired me to begin modding dicey dungeons, i'll learn eventually and really, Great mod! But one thing is, did you add any items for the bear?
Unfortunately you can't add bear items currently - hopefully this becomes possible at some point!
Can't wait to try this! thanks for your hard work!
Uh... any dates for the download link release? Or at least drop one for a older version of the game?
I'll get the download link ready as soon as I can - there's a lot of stuff that needs to be updated from previous versions.
Where's the download link?